About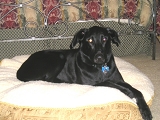 Who is Molly? Born and rescued in 2000 from a local animal shelter, Molly  is a mix of (we believe) black lab and german shepherd. Besides napping and chasing any birds that invade her territory, her favorite pastime is laying at the feet of her master while he watches sports or plays poker. Being from southern California, she is a huge fan of the San Diego Chargers, Padres, and the Los Angeles Clippers.

Founded in 2004, this site provides listings, ratings, and reviews of online poker rooms and online sportsbooks.
Molly's online poker and Sportsbook Guide, Reveiws, and Portal is dedicated to bringing online gamblers the best online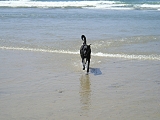 gambling information, help, and resources. This site is a guide to the best in online poker and online sportsbook (of if you prefer, sports book). All our information if free and editorial content is solely the opinion, right or wrong, of the site owner or the authors (human or otherwise) of individual contributions. Once again, in case you missed it, this 100% free site is all about the Internet's (or if you prefer, the web's) best online poker, online casino, and online sports book (or if you prefer, sportsbook) sites. And yes, the owner of this free online gambling guide knows that humor is better left to professionals and spelling is better left to computers.
Gambling is a risk activity. Whether you are betting on poker, sports, horses, the roll of the craps dice, the spin of a roulette wheel, the spin of a slot machine, against your backgammon opponent, or any other ways to risk your money, you must be aware that you can lose some or all of it. The owners and operators of this website advise you to gamble online with "play money" only, but if you choose to gamble online with real money we advise you to gamble only with money you can afford to lose. The owners and operators of this website may be compensated for referring you to a site listed, but the owners and operators of this site are not responsible for any of your disputes or losses whether you are an adult or minor. We will attempt to help you with your disputes, but we cannot guarantee results. Much of the information on this site is hand edited and may be out of date and incorrect and we provide no guarantees. You are responsible for verifying all bonus offers, codes, promotions, and terms and conditions. Reviews, recommendations, ratings, guiedance, help, tips, strategies, etc., are opinions of the respective authors and editors and the owners and operators of this site are not responsible for any bad advice. Although we believe the sites advertised, hyperlinked, or otherwise, are legitimate and operate in good faith, the owners and operators of this website are not responsible for the activities and bad faith of any site listed. Online gambling may be illegal in your area, so the operators of this website insist that you abide by your local gambling laws.